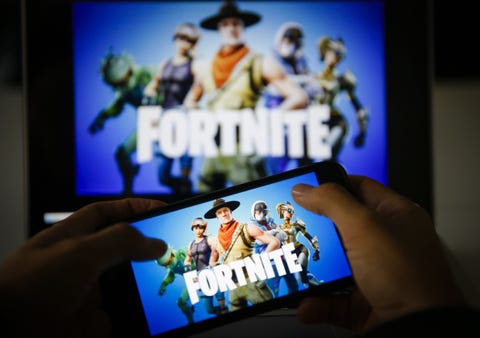 Pornhub recently released their report on the most popular porn searches of 2018, and one of the more surprising insights was that "Fortnite" was apparently the 15th most popular search term. Fortnite is an immensely popular third-person shooter game. It's so popular, in fact, that more than 125 million people have played it since its release in mid-2017.
So why are people searching for Fortnite-themed porn? As it happens, porn inspired by video games is pretty common. Every time a video game becomes a major cultural phenomenon, porn inspired by that game inevitably seems to follow. For example, after Pokemon Go became a massive hit in 2016, Pokemon-themed porn searches spiked. Likewise, video games franchises with enduring popularity (like Tomb Raider and Legend of Zelda) continue to be searched for millions of times each year on porn sites.
In other words, we should have seen the Fortnite porn craze coming. Before we can explore the appeal of porn based on a video game, however, we need to step back and look at what this kind of porn is actually like. So, I took the liberty of watching some Fortnite porn—for research purposes, of course. What I found was that almost all of it was oriented toward heterosexuals, but there were really two distinct genres.
One consisted of real-life people who played the game and then had sex during or afterwards. For instance, some videos took the form of people having sex while playing the game. Others took the form of an attractive woman who disconnects from the game without realizing that her webcam is live streaming to other players, who then get to watch her undress or have sex. The last genre consisted of people's avatars from Fortnite engaged in sexual activity with other animated characters.
The appeal of the first genre is easier to explain because it's not really about Fortnite. This is pretty traditional porn that simply uses the game as a convenient set-up for sex, one in which Fortnite is kind of used as a form of foreplay. Incidentally, some of the Pokemon Go porn is like this, as well.
The popularity of this kind of porn makes sense from a scientific standpoint. I surveyed more than 4,000 Americans about their sex fantasies for my book Tell Me What You Want and found that 37 percent of men had fantasized about having sex while playing a video game before. Apparently, using a game as a prop or excuse to have sex is appealing to a lot of guys simply because it puts a new twist on things. That, or maybe some men just think multitasking is hot.
Animated porn is a somewhat different story, though, because the sex that takes place sometimes involves non-human creatures and/or scenarios that would be difficult to replicate in real life. The popularity of these videos can be explained by the same factors that make animated porn in general popular—and it's way more popular than you might think. In fact, according to Pornhub, hentai, cartoon, and anime were the 2nd, 18th, and 22nd most popular search terms on the site last year.
The appeal of animated porn stems from several factors. One is that (like the first genre we discussed) it's a novelty—it can depict something sexual you've never seen before, from new positions to new activities to new people. We know from a mountain of psychological research that human beings are titillated by sexual novelties. When people watch the same porn video every day for a week, for instance, they show less arousal to it each time. But when you show them something new, their arousal comes roaring back (a phenomenon referred to as the Coolidge Effect).
So when games like Fortnite come out, they offer inspiration for a boatload of new porn that can feed our need for novelty. Additionally, the characters who appear in these games often have extreme and sometimes impossible body proportions (like massive muscles and oversized breasts), and those hypersexualized bodies are obviously a big part of the appeal.
Animated porn also offers the opportunity to vicariously experience activities that would be dangerous or risky to act out in the real world. Similarly, animated porn can depict fetishistic acts that might be harder to find elsewhere. If you have very specific tastes that mainstream porn doesn't cater to, animated porn may be just the ticket. Consistent with this idea, my quick perusal of Fortnite porn compilation videos revealed some with emphasis on things like rough sex, feet, and interspecies sex—sometimes all at the same time.
Yet another factor that explains the appeal of animated porn (whether it's based on video games or not) is that it offers a distraction and an escape from reality. If you're someone who has a tendency to compare your body to the bodies of porn stars, or if you're someone who always wonders if the people in porn are actually enjoying themselves, animated porn might help get you out of your head—it might offer the chance to relax and enjoy yourself by eliminating the need for social comparison.
It's also worth mentioning that the popularity of Fortnite and other video game porn may stem from the fact that porn is increasingly being watched on game consoles. If you already have games on your mind, it's not a stretch to think that those games (especially games with hypersexualized characters) will be the first thing you think of when you switch over to your browser to watch porn.
When it comes to how we meet our sexual needs and desires, it turns out that human beings are endlessly inventive and flexible. Fortnite porn—and video game porn more broadly—are perfect demonstrations of this.
Justin Lehmiller, PhD, is a Research Fellow at The Kinsey Institute and author of the blog Sex and Psychology. His latest book is Tell Me What You Want: The Science of Sexual Desire and How It Can Help You Improve Your Sex Life.
Source: Read Full Article