When Todd Dyer went to the hospital for lower back pain, doctors kept asking whether he'd fallen or otherwise injured himself. He told them no, and they revealed that he had a small fracture in his spine—likely from carrying around so much extra weight on his body.
That was a wake-up call for Dyer, 29, a call center leader from Adelaide in South Australia. He'd always been a chubby kid, as he puts it, but after high school he got taller and slimmed down. For a while, he could eat as much junk food as he wanted without gaining weight.
"Unfortunately when I got a bit older the bad food started catching up on me," he says. His diet was a mess—eating fast food multiple times a week. "A fairly normal meal for me would be an entire large pizza and a huge box of hot chips with meat and cheese," he says. And he'd gone from being an active, sport-playing teenager to working in a call center, getting no exercise.
The diet and lifestyle caught up with him. By 25 he was topping 350 pounds, at 5'10." "I felt like absolute crap constantly," he says. "I would struggle just to walk up a small incline or walk up a few steps. I would be out of breath for 10 minutes afterwards." Beyond the physical effects, his self-esteem was in the toilet. "I felt disgusting and I absolutely hated seeing myself in any photos or in any reflection while walking past buildings," Dyer says. "I felt like I wasn't an actual person that could live a normal life and that I wasn't deserving of respect or kindness from anyone."
His spinal fracture brought home the danger of living with all those extra pounds. "At that point it became very real to me that I had to drop the weight," he says. Turning things around wasn't easy; he initially lost more than 60 pounds, only to gain it back.
But he rededicated himself to a healthier lifestyle, starting with his diet. After doing some research, he jumped right into a low-carb, high-fat diet. His girlfriend was supportive, and came along for the ride. "I took it very slow in the beginning as I was still eating quite large meals but gradually the meal sizes shrunk along with my weight," he says. He also worked intermittent fasting into his routine. And he upped his exercise in simple ways, like taking the stairs instead of the elevator, and getting off the bus early and walking the rest of the way to work. "I haven't really started properly working out yet," he says, "but that's the next step."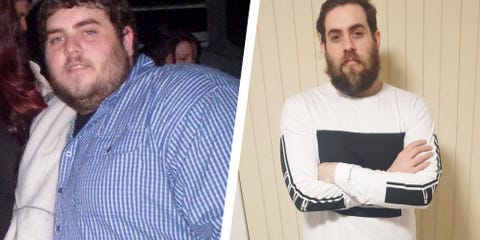 Todd Dyer
After 18 months, he's lost more than 125 pounds. It took him some time to recognize himself in the mirror, but now he loves how he looks. "I will admit that at times I have purposely walked past a big window so I could have a quick look at myself in the reflection," he says, and notes that many of his health issues have improved. He's more confident, more focused, and more energetic.
For Dyer, getting this far meant a total lifestyle change, and he advises others to recognize that's what it takes—fad methods might give you short-term results, but too often leave you bouncing back to being overweight. Now that he's slimmed down, the next step is building muscle: He's got a trainer friend ready to take him to the next level.
Source: Read Full Article