2021 was a transitional year, with physicians still reeling from the financial effects of the COVID-19 pandemic.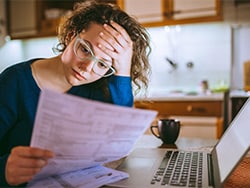 Fortunately, physicians' average compensation rose and their financial prospects began to brighten, as noted in the Medscape Physician Wealth & Debt Report 2022.
Respondents' comments in the survey and readers' comments on the results humanize the trends affecting physicians' family wealth and debt.
COVID's Significant Impact
While 72% of physician respondents said they experienced no significant financial losses during 2021, that means more than one fourth did. One respondent called it "the worst financial year since my initial year of working."
Most commonly, monetary hits related to medical practices. About 1 in 10 physicians reported business problems, reimbursement changes, or changes in practice situation in either private practice or employed settings.
"COVID-19 obviously resulted in my working fewer hours and seeing fewer patients," wrote one respondent. "Since I'm paid based on RVUs, I took a significant hit in 2021 and am just starting to get back to normal numbers," another said.
Many physicians lamented they are working fewer hours, not by choice.
"My hours were cut for well over a year," one doctor wrote. "I used PTO hours toward my full-time pay." Another physician experienced a cut in hourly pay plus shift cancellations. "In order not to lose a bunch of income, I've had to scramble to get four jobs," she said.
Numerous physicians reported COVID-19–related decreases in patient volume. "Months of shutdown without a predictable endpoint, plus over a year of reduced volume from patients who left the city, with overhead unabated, cost me half my retirement account to keep the potential for returning to pre-pandemic business alive," one doctor said reported.
Less Reimbursement = Less Income
COVID also slowed reimbursements by payers. Some respondents' practices closed altogether; others shrank as partners became ill or felt compelled to retire.
Meanwhile, many physicians had to tighten their financial belts as a spouse's income shrank. For example, a respondent's surgeon husband had to cut his hours because of COVID-19. The spouse of another respondent became ill, leading to a decline in household income.
COVID was not responsible for all financial challenges that physicians faced in 2021. Some doctors reported shrinking incomes as they transitioned to new jobs.
Misguided Investments
Physicians are typically smart and incisive people, but diagnostic and treatment acumen do not necessarily translate into financial savviness. The second most common cause of financial losses in the Medscape report was stock investments that soured.
On the subject of investment mistakes, many physicians instead reported painful tales of scams or exploitation.
"A lot of very dishonest people were trying to take advantage of those of us that work hard for a decent living," one wrote. Another said, "I trusted a real estate person who turned out to be a liar and a thief. And I purchased a company with falsified records." Yet another doctor fell prey to a Ponzi scheme.
Respondents also lamented a wide range of investments that tanked, not only in stocks but also in startup companies, real estate, restaurants, a gym, biotech companies, oil futures, and other investments.
In real estate, respondents cited problems ranging from 2008 real estate crash carryovers to misguided choices of location and faulty construction.
"I bought raw land for more than I could sell it for," one physician wrote. Another "bought a house to flip and lost more than $25,000." From a third doctor: "I bought a multi-resident apartment building. It was poorly made and needed lots of repairs. I eventually sold 6 units for a loss."
A fair number of physician respondents lost money on medical equipment (eg, cosmetic laser machines that malfunctioned) and facilities (eg, urgent care and surgical centers).
Money and Marriage: A Meeting of Minds?
The Medscape survey also asked physicians about how often they disagreed with their significant other about spending.
Physicians reported different types of arrangements with their spouses that keep things amicable.
"We are both very careful with money," one physician said. "Any big expense is reviewed with the other. My wife can spend what she likes, I do not bug her about it." Another wrote, "Any expense over $500 is discussed and reviewed as part of a loose budget." From a third doctor: "Both of us are thrifty in our purchases and don't do much self-indulging. Larger expenses, we pretty much agree upon."
But not all respondents were so harmonious with their spouses about spending. "We have differences in spending priorities," one wrote. Another said, "I like to save, he likes to spend."
Good communication seems to be key in avoiding financial disagreements. "I am very happily married, and we discuss finances without issues," one respondent stated.
Financial Success Stories
Respondents and readers had stories of fruitful investments to share as well.
One physician wrote, "I capitalized on the major dip in 2020 and made 10% more than the index averages." Another said, "I'm very conservative and was prepared for trouble when the pandemic came around, therefore I've been fortunate."
Doctors also offered up financial advice. "It is vital to calculate net pay in your pocket after deducting all costs and including your average workweek," one wrote. "In this context, working for the VA [for example] might seem very attractive, especially with their generous benefits."
Another physician counseled his peers to save and invest as much as possible during the first 10 years of practice, to get the most bang from compounded interest.
For more news, follow Medscape on Facebook, Twitter, Instagram, and YouTube
Source: Read Full Article