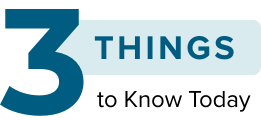 COVID-19 'End in Sight' Says WHO
The COVID-19 pandemic may be ending, the World Health Organization (WHO) said. Reported deaths dropped to the lowest number since March 2020.
"We have never been in a better position to end the pandemic," WHO Director-General Tedros Adhanom Ghebreyesus said in a news briefing in Geneva on Wednesday. "We're not there yet, but the end is in sight."
Deaths fell worldwide: Deaths fell 22% in the past week to a bit more than 11,000 globally, the agency said. New cases fell by 28%, continuing a decline across the world.
Highest number: The United States still reported the highest number of weekly deaths, followed by Japan, Russia, Brazil, and the Philippines, CNN reported.
Possible winter surge: WHO issued a set of policy briefs for governments to strengthen coronavirus efforts ahead of an expected winter surge of COVID-19, The Associated Press reported. New variants could undo the progress made to date, the wire service said.

Loosening Criteria for Cancer Clinical Trials
Cancer clinical trials should loosen criteria for inclusion of patients with comorbidities, says a new study.
That would make such trials more generalizable to the real world, according to the study, published this month in the Journal of the National Cancer Institute.
Major barrier: "Exclusion of patients with comorbidities is a major barrier for clinical trial enrollment of the diverse populations typically seen in oncology practices," the authors said about the National Cancer Institute trials.
Eligibility criteria: Recommendations regarded language used for seven major eligibility criteria involving cardiac status, liver and kidney function, HIV status, prior or concurrent cancers, treated or stable brain metastasis, and new or progressive brain metastases.

'Quiet Quitting' or Setting Boundaries?
More physicians are "quiet quitting" — ceasing to go above and beyond what is required to do their jobs — according to a Medscape commentary by Margaret Calvery.
But Calvery argues that clinicians aren't being quiet nor are they quitting. Instead, they are setting boundaries about work after 2 years of the pandemic.
"Quiet quitting is a misnomer," Calvery says. "Individuals are not quitting their jobs; rather, they are quitting the idea of consistently going 'above and beyond' in the workplace as normal and necessary." She adds: "Quiet quitters are firmer with their boundaries, do not take on work above and beyond clearly stated expectations, do not respond after hours, and do not feel like they are 'not doing their job' when they are not immediately available."
Lower engagement: Gallup data reveals that employee engagement fell for 2 consecutive years in the US workforce. In the first quarter of 2022, Gen Z and younger millennials reported the lowest engagement across populations at 31%, and 54% were classified as "not engaged" in the workplace.
Why now? Quiet quitting was fueled by the pandemic. "Many suggest that self-evaluation and establishing firmer boundaries is a logical response to emotional sequalae caused by COVID," Calvery says.
For more news, follow Medscape on Facebook, Twitter, Instagram, and YouTube
Source: Read Full Article