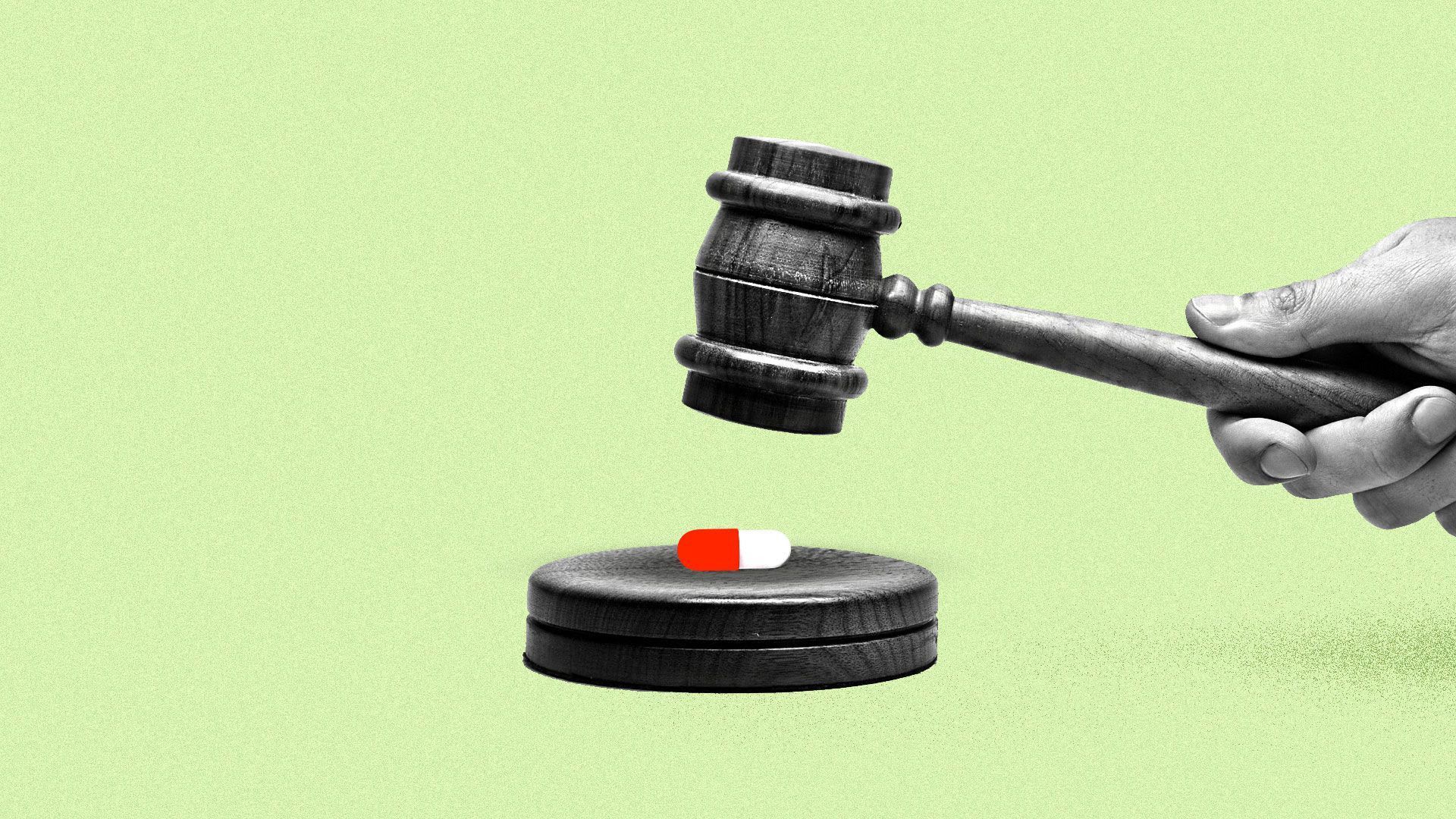 Illustration: Lazaro Gamio/Axios
40 million more women would lose access to abortion care if a federal court revokes the use of a key drug in medication abortions, data from the abortion rights group NARAL shows.
Why it matters: A U.S. District Court in Texas could decide this month to temporarily block the FDA's authorization of mifepristone, one of two drugs used to end pregnancies. Doing so would effectively result in a nationwide ban on a method that accounts for most abortions in the U.S.
"It's the biggest thing since [the Dobbs decision]," said Mini Timmaraju, president of NARAL Pro-Choice America, adding that it shows how anti-abortion groups "can go after abortion" even in states that protect access.
Details: NARAL data first provided to Axios that was drawn from U.S. Census Bureau statistics showed that eliminating access to the pills would increase the number of people without access by more than 2.5 times.
Following the Supreme Court's overturning of Roe v. Wade, 24.5 million women of reproductive are living in states that have no abortion access. If mifepristone's approval is revoked, the number would rise to 64.5 million.
Of note: Medication abortion accounts for more than half (53%) of all U.S. abortions, per the Guttmacher Institute, a research organization that supports abortion rights.
Abortion pills are frequently prescribed online and mailed to patients, effectively providing a way to circumvent state restrictions that took effect after the high court decision.
If the Texas judge grants an injunction on the FDA's approval of mifepristone, drug manufacturers and distributors would have to immediately halt the sale and shipment of mifepristone regardless of what state a person is in.
Go deeper:
FDA adds a major new twist to the abortion pill fight
Two new abortion pill lawsuits could have major federal consequences
Source: Read Full Article